Arcana is honored to work with some of the most exceptional sustainable textile companies the world has to offer. Discover the stories behind each unique fabric used in our FW16 Collection.
Organic Ahimsa Silk, India
Typical silk fiber harvesting involves one of two methods: plunging the cocoons of the silk worms into boiling water, or piercing the cocoons to extract the fiber. Both techniques kill the silk worm in its cocoon.

Ahimsa Silk brings the focus back to nature. The silk worms are allowed to live their full life-cycle and emerge from their cocoons on their own. Each cocoon is inspected to ensure the silk worm has safely emerged before the fiber is extracted. The chemical bleaching and degumming process that follows in typical silk production is eschewed in the manufacturing of ahimsa silk, resulting in a material that is fresh from nature and chemical free. The process of manufacturing ahimsa silk is far more labor intensive, but it places the value back on the lives of the silk worms, and on the health of those who manufacture and wear their silk.
Alpaca wool is not only softer than lamb's wool—it's a more environmentally friendly option as well. While the lanolin and guard hair of sheep fibers require extensive washing and scouring in chemical baths, alpaca fibers, naturally lacking these, need only a light wash to achieve their cloudy, silken texture. This means alpaca wool production uses fewer chemicals and less water, leaving a much smaller environmental impact. Moreover, alpacas emit fewer greenhouse gasses, and their prickle-free wool is naturally hypoallergenic, biodegradable and recyclable.

Arcana's alpaca wool is sourced from Incalpaca, a Peruvian company deeply rooted in ancient Andean culture. Their respect for the Andes' precious ecosystem and native people is central to their mission to produce the finest wool for the most discerning customers. Native people have thrived side-by-side with their alpaca herds in the Andes for millennia, and thus alpaca textiles are as integral to Peruvian identity as the mountains that frame their landscape.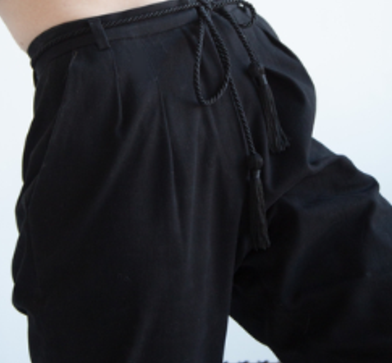 Organic Cotton Denim, India
Arcana's organic denim is sourced from Aura Herbal Wear, a truly innovative company reviving India's rich history of natural dyes. Through research into their nation's textile history as well as modern eco dyeing techniques, Aura Herbal Wear has spearheaded a dyeing method that will change the way we color our world.

Aura fuses Ayurvedic medicine and Indus Valley civilization dyeing practices to create a technique they call "Live And Let Dye." Using herbs, plants and minerals known for millennia for their medicinal properties, Aura has created a brilliant palette of healing fabrics. The dye process uses only natural materials in every step of production: from sizing, to bleaching, to mordanting to dyeing. Best of all, the solid and liquid waste (which is completely non-toxic) is separated and used to fertilize and water the fields where their herbs grow, resulting in a perfectly self-sustaining fabric-production cycle.
In 1994, Icelanders in the tiny town of Sauðárkrókur had a brilliant idea. Inspired by their pioneering ancestors who wore shoes made of wolffish leather, they repurposed fish skins from the fishing industry and tanned them using renewable hydro and geothermal energy. The result was a sustainable leather as supple as lambskin and tough as nails. And so Atlantic Leather was born.

Today, the leather produced by Atlantic Leather has been voted the best luxury leather in the world (APLF Hong Kong Leather Expo), however they continue to strive to create better, more eco-friendly, more sustainable leather choices.

Arcana's salmon leather has fantastic natural texture and cross-grain that makes it extremely durable. Best of all, it has been treated so that it is machine-washable, allowing you to avoid toxic and expensive leather cleaning services. Machine wash in temperatures up to 86˚F, use a gentle cycle if available, and lay flat to dry.
Arcana's smart, graphic cotton is a traditional handwoven variety from India called khadi. Handspun and handwoven, this natural textile experienced a revival when Mahatma Ghandi encouraged Indians to embrace their heritage and rejuvenate national industry by making fabric at home.

Arcana's khadi is produced by the charitable organization Women Weave, which employs vulnerable women, particularly widows and the handicapped, in impoverished rural areas of India. Women Weave trains these women in sustainable farming, handspinning, and the handloom, and further educates them in business entrepreneurship. When the women graduate from the program as financially independent skilled artisans, they earn a leadership role that empowers them to make business decisions with their collective, and to spread the social outreach and technical training to other impoverished communities.

Women Weave is dedicated to serving as a mentor for these textile entrepreneurs, providing guidance and access to both the larger community of Indian weavers and selling opportunities abroad. Moreover, the environment and sustainable agriculture remain central concerns to the organization, which favors organic cotton and natural, non-toxic dyes.
Cupro may look and feel like silk, but it is in fact a byproduct of the industrial cotton industry, using leftover fibers too small for typical cotton yarn. It can be washed like cotton, and it's biodegradable, making cupro easy on the wallet and the environment.

Arcana's cupro is sourced from Katsu Kafe, a Japanese textile company committed to producing innovative luxury textiles and honoring Japan's brilliant textile tradition. Guided by a philosophy of respect for their employees and the environment, Katsu Kafe produces biodegradable, organic, natural and recycled textiles.
Vintage Kimono Silk, Japan
With traditional Japanese garments relegated to special occasions in modern Japan, the country's number of illustrious silk artisans has dwindled. Vintage silks of every hue, displaying motifs central to the culture's visual lexicon, have been wrapped up and stored away in warehouses.

In collaboration with a family-owned kimono trading company, Ichiroya, Arcana's Fall Winter 2016 collection salvages and repurposes these precious emblems of Japan's rich textile history.

One bolt, or tan, is a narrow 14 1/2" in width, and only enough to make a single kimono. Thus, each garment made from this vibrant silk is a one-of-a-kind heirloom showcasing the beautiful craftsmanship of a bygone Japan.